Buy Contact Lenses Online Australia
Welcome to Contact Lenses online.
The human eye is a sensitive and important organ. We know that and so also do you. This is why, here at Contact Lenses Online, we are dedicated to providing nothing but the best possible optical products.
Contact Lenses online is your one-stop source for high quality contact lenses. Our site is visited by thousands of surfers everyday but our resolve to provide first rate services to our different customers never wanes. Contact Lenses online is an Australian owned company that offers affordable AND reliable contact lenses. The quality of our products combined with the strength of our services has led to us becoming one of Australia's most trusted suppliers.
Why Us?
That's a good question. There are dozens of other sites online that offer contact lenses. What makes us better than them? It's not just one thing. It's a combination of factors as you'll soon come to discover.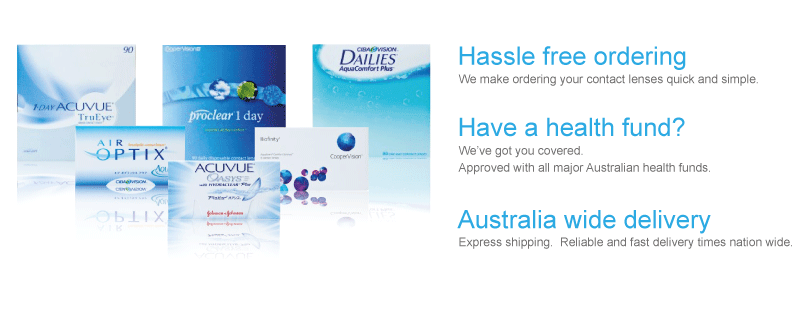 Guaranteed Quality
With Contact Lenses Online what you see is what you get and possibly even better. Because we understand how important it is that you use only the best solutions for your eyes, our online shelves are stocked with nothing but the best contact lenses available.
We offer contact lenses manufactured by popular brands such as
Acuvue
, Air Optix, Focus, ProClear and PureVision. All our contact lenses are completely original and are sold with the requisite full manufacturer's warranty. You'll quickly come to discover that buying your products from Contact Lenses Online is the same as ordering it directly from the manufacturer. There aren't many sites that offer this kind of service which is why we've grown to quickly become the number one destination for thousands of people.
Large Inventory
Do you have a particular brand? Are you searching for astigmatic contact lenses or 1 day packs? You'll find all that and more here. Contact lenses online is home to one of the largest stock of contact lenses in Australia. Our inventory is richly stocked with contact lenses made by some of the leading suppliers in the world with no quality compromise. Surf though our shelves. You'll find popular brands such as Johnson Acuvue, Copper Vision, Geflex Baush & Lomb and Ciba Vision.
And if you have any enquiries we'll be more than willing to help you.
Secure and Reliable
Our online transactions are protected by 128-Bit SSL technology which is the most secure encryption technology currently available on the web. Buying contact lenses online has never been safer. Compared to older forms of encryption, the 128 Bit SSL encryption offers 288 possible permutations. That's over 308,485,010,821,345,068 possible sequences. When you key in your transaction details, it is guaranteed to remain COMPLETELY secure. To keep you even better protected, all your payment details and transaction information are not stored permanently on our system.
Affordable Prices
Contact Lenses Online isn't just your one stop source for optical lenses. We're also your most affordable option. Our shrewd business practice of keeping our overheads low and buying large volume offers us a lot more flexibility with our prices than other stores.
The results?
We're able to offer you contact lenses at amazing bargain prices. The prices of our contact lenses are so low, they're practically a steal. You don't need to leave your home to find the best possible deal. You've found it.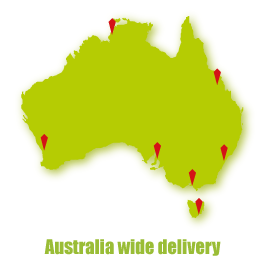 Efficient Delivery
Worried about your location? You shouldn't be. We'll have your purchases delivered to you regardless of your location. Using the Australian Post eParcel Express service, contact Lenses online supports affordable deliveries to locations all across Australia. That includes Brisbane, Melbourne, Perth and Sydney. We also offer international deliveries at a slight extra charge.
Send us an email
and we'll help you determine the exact cost for your international delivery.
The length of our deliveries varies. Generally the processing and delivery time takes between 7 to 14 days. The processing period will be even faster if you use your credit card as a payment option. Contact Lenses Online accepts all the major credit cards including American Express, MasterCard and Visa. If we find that your ordered item is currently not in stock, we will notify you immediately of this.
Australian Health Funds
Contact lenses Online is recognized as provider by close to three dozen different Australian health funds. These include AHM, BUPA, Medibank Private, MBF and NIB. You'll therefore have little difficulty claiming a rebate for your contact lens purchase from your health fund. All our contact lens transactions are done with issued receipts which include the item number and provider details. You can use these receipts in claiming a rebate.
Our ordering system can also be used for multiple orders where you prefer to have the name of each individuals printed separately. This allows you to still claim rebates on each person while saving cost on the total shipping.
Easy Shopping Experience
Buying your contact lenses is easy. All you need to do is simply log in and search for your preferred lens. You can base your search on specific brands or surf through our popular options. You can also search for the right contact lens based on the different types of lens. Reordering your contact lenses with us is also fairly easy. If you've already made an earlier purchase, our website is built with intuitive controls that allow you to
repeat your last order
with a quick click.
Returns & Refunds
We offer nothing but products with a 100% quality rating. But if you change your mind about your purchase, you can return your contact lenses for a refund or exchange provided that the items are still in their original condition.
Guide to Buying your Online Contact Lenses
Online transactions can be tricky, especially if you've never gone through the motions before. The following is a quick guide that can help you make the right decisions.
Use a current prescription
Prescriptions do not always remain the same. Over time, your optometrist may alter your prescription based his updated evaluation of your eyes. Prescriptions are constantly changed to address any new problems or compliment any progress.
Do not place an order with a dated prescription. Use your most recent prescription when ordering online. If you have misplaced this, consider approaching your optometrist for a replacement. Check the date of your prescription. If it's older than 12 months, you may want to consider getting any new one.
Your prescription will include your
Name
Prescription expiration date
Name and contact details of the prescriber
Power for the lens
Base curve
Material
Examination date
Diameter
The name of the brand/manufacturer.
Check your Order Twice before submitting it
Take your time before making your order. Don't be quick to make a decision. Before you click the submit button, ensure that the contact lens that you are buying fits with your prescription. Pay attention to the lettering. It is important that you choose the right fit for your eyes or this may lead to long term complications. Correcting your order may also extend the processing period which will delay your delivery.
Discuss with your Optometrist about Substitute lens
Contact lenses Online is stocked with dozens of different brands (International and Australian). On rare instances, we may not have the particular brand that you are searching for in stock. But you are likely to find an equally suitable alternative. If you are unsure about the proffered substitute, consult with your optometrist. Your doctor will be able to suggest alternative brands that will still fit with your prescription.
Check the expiration date on the package.
All our contact lenses are sold within their outlined lifetime. Using dated lenses may damage your eye. Check your package when it is delivered. If you should receive a delivery with an expired date, return it immediately and we will immediately send a replacement.
Check the Product
Before you unpack the contact lens and put it on, check to make sure that your order is the right one and fits with your need. Your package should be the brand you ordered with the exact name and sphere. Other details include the base curve, diameter and cylinder. If your package is the wrong one, please return it immediately for a replacement. It is risky to use contact lenses that do not match your prescription.
Don't skip your regular eye examination
Contact lenses online offers high quality vision correction solutions. But that doesn't mean that you no longer need an eye examination. Do not skip your annual or bi-annual eye examination. This will ensure that you are always using the best possible setting for your needs. As your eyesight improves, your doctor may alter your prescription to enhance the corrective factor. Regular visits will also ensure that your eyes aren't being overly strained with regular use or infected.
Contact Lenses Online: Beyond Your Order
Contact Lenses can be used to safely correct vision. But only if they are used the right way. Make sure that you buy contact lenses for the right reasons. It is the only way of guaranteeing that your eyes remain healthy.
Before buying your contact lens, it is advised that you go for an eye examination. The results of the eye exam can be used to determine if you are a right candidate for contact lenses and which lens is the right fit for your needs. Your optometrist will provide you with the right measurements for your contact lens and will also offer assistance and advice on how you can take proper care of them.
Contact Lenses: Things you should know
Why do you need a Prescription?
Contact lenses
are not toys. Wearing contact lenses without a proper prescription fitted by your optometrist can be harmful to your eyes. Poorly fitted lens or contact lenses made from the wrong kind of material can very easily damage your eyes. It increases your risk of infection and could lead to permanent tissue damage.
Discussing with an optometrist will also make it easier choosing the right contact lens. Contact Lenses online is home to a vast selection of lenses. Making the right decision can be overwhelming if you aren't already familiar with the different options. Learning more about contact lenses and the different materials that they are made from can help you make the right decision. For instance, some contact lenses are designed to be replaced while others can be worn for extended periods. You'll also find decorative contact lenses and silicone hydrogel lenses among other options.
How to Care for your Contact Lens: Quick Tips
Your package has arrived and you're the proud new owner of a new set of contact lenses. Now what? The following will help you get the best out of your new purchase.
Always follow the product instructions or those of your optometrist when cleaning your contact lens. Rinse your contact lens carefully before soaking it in cleaning solution. Ensure that the lens is completely covered.
Do not swim or enter a hot tub while wearing your contact lenses. Follow the use and replacement guidelines recommended by your physician.
Never attempt to clean your lens by putting it in your mouth. Saliva is not an acceptable cleaning solution. Doing this will only expose you to a possible infection.
Do not use product that have not been recommended by your optometrist to disinfect and clean your contact lenses. Always clean your contact lenses with fresh solution. Do not re-use old solution as this will increase you risk of catching an infection.
Keep your hands clean and dry before handling your contact lens. Change your contact lens solution everyday even if you only use your contact lenses periodically.
Above all, it is important to remember that your contact lenses are medical tools and need to be treated with the right amount of care. Use your contact lenses carefully. Wearing your contact lens for extended lengths may lead to redness, sore eyes or blurry vision.
Do not share your contact lens with other people. This includes prescribed contact lenses and colored lenses used for cosmetic ends.
More contact lens care tips can be found
here
and
here
.
No two people have the same eyes and so the contact lenses which is best for someone else may not be the best for you. For the latest information regarding this you should visit your optometrist or eyecare professional.